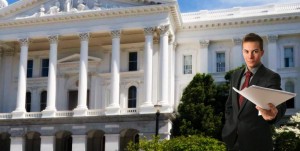 We have a reputation for being fairly priced and for getting the work done quickly. You might be surprised at how much work we get from other incorporators, who then mark it up and charge you. Our offices are located blocks from the California Secretary of State in Sacramento. We go to the Secretary of State's office three times every day.
Legalese provides court services, filing and research to all courts in Sacramento, CA and the surrounding areas, including Yolo, Yuba, Sutter, Placer, and El Dorado counties. Almost all of our court filing and research services are done for law firms that have an ongoing or intermittent need as cases proceed throught the courts. Daily contact with Sacramento court staff over decades has given us great familiarity of habits and practices – information that can be obtained in no other way than by years of experience.
Court filing and research services that one-time or infrequent users of the California courts find frustrating are routine to us. Trust Legalese to simplify your court filing and research process!
Free Quote on Court Research & Filing Services
Legalese provides court research & filing at the following California courts:
We also provide recording & obtaining copies of recorded documents in the following counties:
Sacramento
Placer
El Dorado
Yolo
Sutter
Yuba
Nevada
Solano
Amador